ABOUT US
Our story
Naturveda was set up in September 2005 by an international group of people operating since 1994 in the manufacturing of natural incense and lifestyle products. Through passion, focus and dedication we acquired the experience necessary to obtain a quality and professional standard capable of meeting the high needs of an international market focused on fair values and ecological products allowing the company to evolve and constantly improve itself.
Naturveda is based in Pondicherry, an ex French colony on the South East coast of  Tamil Nadu, India. Here western and local culture mingle in a synopsis of ancient tradition and refined aesthetics. We embrace this unique venue and make it our inspiration by discovering the secrets of the Vedic use of herbs and presenting the final product in elegant, modern packaging.
Our values
Ecological and Social Ideals in line with Global Awareness
Naturveda's Ecological and Social Ideals are expressed through its work, in the commitment to the never ending research for absolutely natural raw materials, for quality and perfection of execution through training and experimenting and for a constant awareness of the reality that surrounds it by integration and interaction with the inhabitants and environment.
Naturveda provides employment to people, mainly women, from poor families, and retain them in employment. They represent the most vulnerable social segment and therefore the one that needs to be supported the most. A secure work position not only gives them dignity and confidence, but also value within their families and the means to support them.
We promote ecological products, sustainable development and the preservation of traditional arts and craft. Our aim is to offer the final consumer beautiful, natural products with strong ethical values.
Our certifications
FAIR TRADE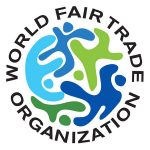 Naturveda is a certified Member of WFTO (World Fair Trade Organization) since 2007.  Fair trade principles have been implemented to support marginalized people with the aim of reducing poverty by transforming their state of economic insecurity into a safer and more dignified condition.
ICEA
Naturveda certifies its products through ICEA (Environmental and Ethical Certification Institute) which promotes organic farming and fair trade through cooperation projects. One of the most important institutions of this sector in Europe , it operates to favour a fair and socially sustainable development from organic farming to other bio related sectors.